Learn about innovaTel's solutions during COVID-19 →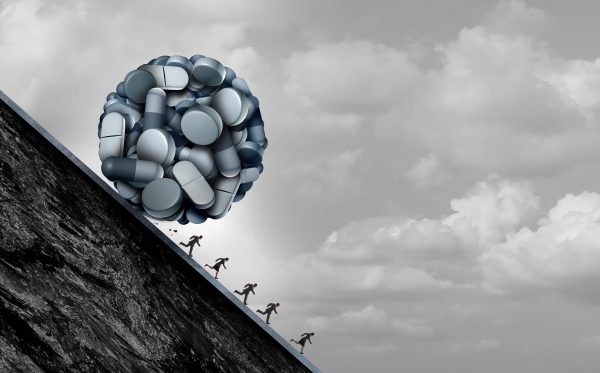 Fifty-six years ago, President John F. Kennedy challenged our country to land on the moon, which led to technological breakthroughs improving health, including the CAT scan and programmable pacemakers. Today, we should embrace new technologies to improve mental health and treat addiction with the same sense of urgency.
In fact, the final recommendations of the President's Commission on Combating Drug Addiction and the Opioid Crisis identify some of those technologies, specifically telemedicine, as a critical component of the plan to reverse the concurrent opioid and suicide epidemics.
Research shows that when people seek mental health and substance use disorder care, they have a much better chance of recovery if treatment is readily available. Take Peter, for example. Starting at age 12, he drank heavily and eventually moved to other drugs, including benzodiazepines and opioids. After decades of depression, Peter finally contacted a clinic in Pennsylvania.
In the past, he would've waited two or three months to get treatment. But the clinic offered telepsychiatry — a form of telemedicine — and he was able to connect with a specialist via secure videoconferencing while staying in the care of his local medical team. Peter slowly got better, stayed sober, took his medication, attended therapy and began to live life again.
Unfortunately, not all stories end as well. Nationwide, there's a shortage of psychiatrists and other mental health providers, which is only projected to get worse. More than half of US counties don't have a single practicing mental health professional — a problem that's particularly acute in rural areas. Only 40 percent of people with a mental health or substance use disorder receive treatment in any given year.
Telepsychiatry can make a difference — today. Through a secure link, clients can have real-time interactions with a psychiatrist who may otherwise be out of reach. Such technology is critical for patients living in rural communities, people with disabilities who may have difficulty getting to office appointments, adolescents or adults who are unwilling to meet with a provider in person and others.
Studies show telepsychiatry can be as effective as in-person treatment. And the majority of children in a study in the Journal of the Canadian Academy of Child and Adolescent Psychiatry preferred it to face-to-face care.
Unfortunately, outdated federal laws and regulations are blocking access to care. For example, the Ryan Haight Act prohibits prescribing certain medicine to treat substance use disorder over the internet, regardless of the doctor's qualifications.
That law was designed to combat sham internet operations, but its overreach has deterred legitimate psychiatrists from practicing telepsychiatry. The act requires at least one in-person meeting before these medications can be prescribed through telepsychiatry.
The opioid commission report generally recommended federal agencies revise regulations in a way that would allow for substance use treatment via telemedicine.
Specifically, that would entail the DEA finalizing regulations that would create a special registration pathway for state-licensed community mental health and addiction treatment providers who use telemedicine — and allow broader prescribing of buprenorphine through telemedicine in areas of special need.
Ideally, a comprehensive solution would also include a single national licensing system, so that a psychiatrist could become certified and provide services anywhere in the country. Not only would it allow psychiatrists to reach rural areas and underserved communities, it would also weed out the small number of unethical practitioners who lose their license in one state and avoid detection by moving to another.
In recent years, progressive, forward-thinking entrepreneurs have drastically improved the way we secure personal transportation, find places to stay when traveling and order products and services for next-day home delivery. Why shouldn't we do everything possible to make mental health care and addiction treatment just as accessible? This isn't a matter of convenience. For many, it's a matter of life and death.
https://nypost.com/2017/11/05/one-must-do-fix-for-addressing-the-opioid-epidemic/
Patrick J. Kennedy is a former congressman from Rhode Island and a member of the President's Commission on Combating Drug Addiction and the Opioid Crisis. Jonathan Evans is the president and CEO of InnovaTel Telepsychiatry.
---
Internet Explorer is no longer supported.
Please use a different browser like Edge, Chrome or Firefox to enjoy a full web experience.
It's easy to make the switch.
Enjoy better browsing and increased security.
Yes, Update Now