Learn about innovaTel's solutions during COVID-19 →
Better Together: Joining Forces to Make Speed to Quality Care a Reality
December 8, 2021 | Innovatel News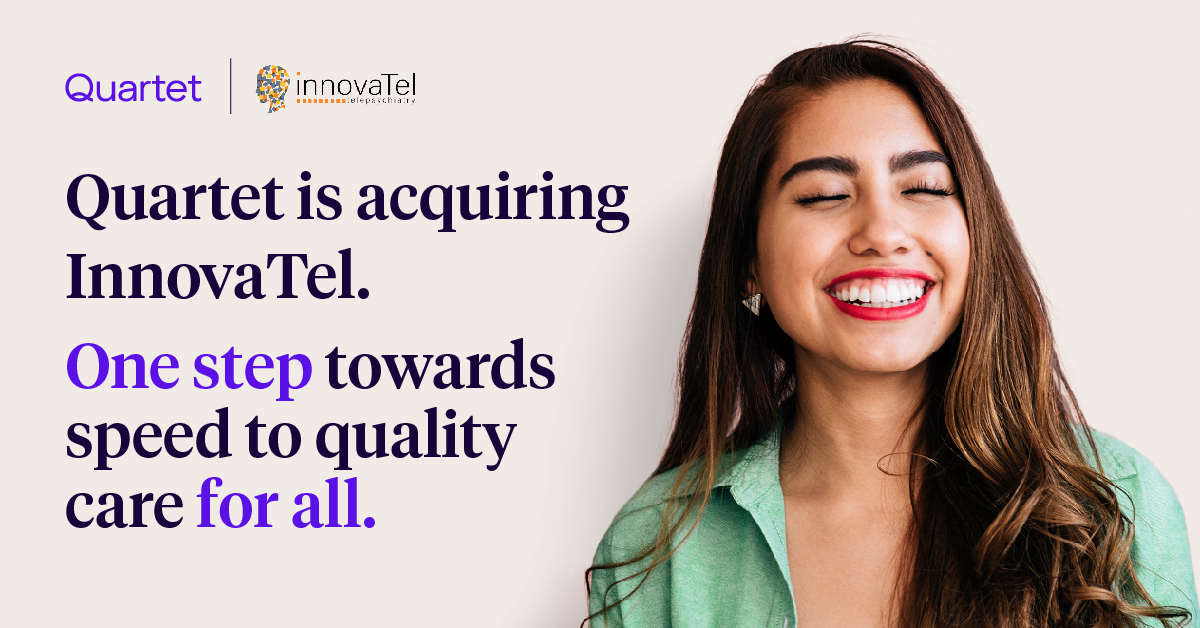 Puneet Singh, CEO, Quartet Health
Dr. Patrice Harris, M.D., Quartet Board Member
Jonathan Evans, M.S., President and CEO, InnovaTel Telepsychiatry
One of us, Puneet Singh, is a business leader from an immigrant family, who's spent years as a caregiver for a loved one with a mental health condition. Another, Dr. Harris, is the co-founder and CEO of a digital health company, as well as a practicing psychiatrist with diverse experience across health advocacy and policy, serving communities both small and large. And Jon Evans, a psychologist from northwest Pennsylvania, has been the founding CEO of one of the nation's most successful telepsychiatry organizations for over 7 years. Our backgrounds are varied, and collectively, we've seen our fair share of issues across mental health, but one common denominator has persisted: patients are waiting too long to get quality care.
The Need For Timely Access to Care
Studies have found that on average, patients have to wait for over three weeks to see a psychiatrist for an initial evaluation. For those in need of inpatient psychiatric care, adult patients were found to have waited in emergency rooms or boarded on non-psychiatric medical floors for an average of 53 hours. Despite the efforts of many, we aren't where we need to be.
The clinical implications of this are too large to ignore. The longer patients are left untreated or without the right care, they become increasingly inhibited in their ability to achieve improved health outcomes, especially those with a serious mental illness. Protracted speed to care is associated with higher rates of patient distress, health complications, and increases in ER visits[1]. Longer wait times to care also lead to increased patient dropout rates – studies have shown that patients are 1% less likely to show up for their appointment for every day of wait time. This means that if a patient had to wait 60 days, they would be 70% less likely to show up for their appointment.
Quartet and InnovaTel: Complementary Strengths
Since its inception, Quartet Health has been a data-first company, with sophisticated analytics capabilities that support the identification and engagement of patients with mental health conditions. More than 300,000 patients have been referred to Quartet since 2016, 80% of which have come from primary care.  Proprietary algorithms like SmartMatch technology, along with care navigation services that can provide more personalized support where needed, then allow for the most optimal patient and provider match quickly. As Quartet continues to grow, it is this infrastructure that will also enable the development of actionable insights into provider networks and quality of care.
Founded and shaped by clinicians, InnovaTel's standard of care is unparalleled, particularly for those with serious mental illness. With a 95% clinical retention rate, the telepsychiatry organization has been nationally recognized for clinical quality by the Utilization Review Accreditation Commission. InnovaTel has over 130 mental health professionals on staff, 51% of whom can prescribe medication and 27% are providers of color. Additionally, 50% of patients that the organization serves have a serious mental illness – an important focus given that these populations have historically been underserved.
A Shared Vision
Today we are sharing that Quartet Health and InnovaTel Telepsychiatry are coming together  to help millions of people nationwide get speed to quality mental health care. This acquisition is Quartet's next step to advance the company's new strategic direction.
While each company has been running in separate lanes within the mental health space, we share deeply rooted missions, visions, and values. As we both see it, quality mental health care includes timely access to care (hours and days, as opposed to weeks or months), seamless patient and clinician experiences, improved health outcomes, and lower costs. Together, InnovaTel's bedrock of clinically excellent care, along with Quartet's technology platform, care navigation services, and data and analytics, make for a powerful combination to make these shared goals a reality. The best clinicians in the world cannot continue to deliver quality care in absence of sound infrastructure that engages patients and tracks outcomes, in the same way that this infrastructure requires connectivity to the best clinicians to be fully realized.
If you have an earache or fever, there are services around the country where you know you can go to get immediate help. While there is a way to go, we want the mental health space to be the same. For patients to have a place to go for care, be clinically assessed within minutes, and then triaged and booked to see a mental health professional within days. Quartet and Innovatel each bring unique strengths and perspectives to the table, and together, we're confident that we can take the first steps to make this a reality.
Puneet Singh is the Chief Executive Officer of Quartet Health, a company that works with health plans, systems, and provider groups to deliver speed to quality mental health care for all. Dr. Patrice Harris is on Quartet's Board of Directors, and is co-founder and CEO of eMed and former American Medical Association (AMA) President. Jonathan Evans is a psychologist and the President and Chief Executive Officer of Innovatel, a provider of virtual mental healthcare.
[1] Healthy People 2020, Office of Disease Prevention and Health Promotion (2019). Access to Health Services.
Latta, W & Conversano, P (2008). Eliminating the wait for mental health services. The Journal of Behavioral Health Services & Research, Jan, 35 (1), pp 107-114.
National Council for Behavioral Health (2018). New study reveals lack of access as root cause for mental health crisis in America
Reichert & Jacobs (2018). The impact of waiting time on patient outcomes: Evidence from early intervention in psychosis services in England. Health Econ, 27(11) 1772-1787)
---
Internet Explorer is no longer supported.
Please use a different browser like Edge, Chrome or Firefox to enjoy a full web experience.
It's easy to make the switch.
Enjoy better browsing and increased security.
Yes, Update Now