Learn about innovaTel's solutions during COVID-19 →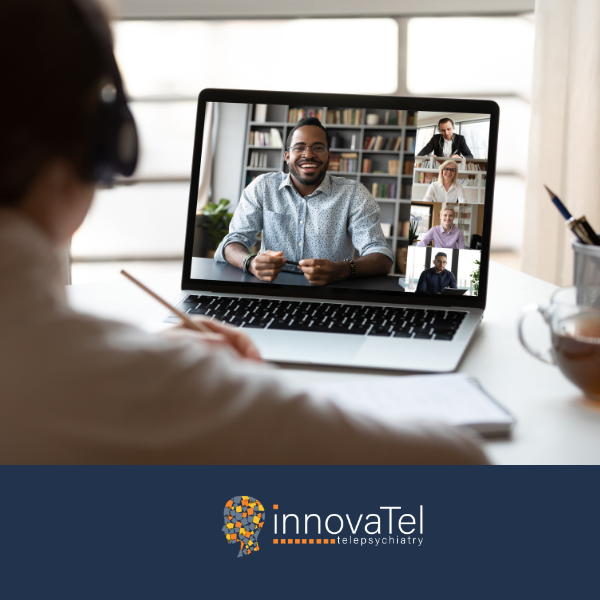 Diversity, equity and inclusion are terms that have become increasingly familiar to employers in recent years as more workplaces intentionally analyze their practices through a lens that offers distinct perspectives based on cultural and social variabilities. 
Beyond recognizing certain holidays or occasions, such as February's Black History Month, a commitment to diversity, equity and inclusion is meant to serve as a consistent, year-round ingredient to creating and sustaining healthy, informed environments — wherever they may be. 
As a leader in telebehavioral health partnerships, we at innovaTel see diversity, equity and inclusion from two vantage points. We see its value from an organizational perspective, as a team of remote providers working to support the partnerships we form with clinical teams across the U.S. and with each other internally, as we assess needs and develop solutions designed to improve outcomes. 
And we also see it, particularly as it relates to delivering culturally competent care, as a necessary component for an effective provider-patient relationship. Efforts to offer culturally competent care, be it from an ethnic, language or any number of other perspectives, have proven beneficial time and again as providers build trust and rapport with patients over time. 
Trust, understanding and cultural investment have been shown, according to studies, to improve patient engagement. 
"I think of awareness," Dr. McCray Ashby, innovaTel's vice president of clinical education and DEI committee co-chair, said of the concept of cultural competency and diversity, equity and inclusion. "In truth, I'll never be able to be in someone else's shoes. But, I can be aware of what those shoes are walking through."
Audrey Jackson, an innovaTel therapist who works primarily with an SMI patient population, describes cultural competency as an awareness of and effort towards closing a gap of understanding between two cultures, two people or two experiences. Jackson said she believes inclusion is a measure of how effective efforts at inclusion have been, whether they're done in the boardroom or a treatment room. 
"From the provider perspective, the way you evaluate the work around giving people a place at the table is to see how to include other people who think and act differently and work differently. Inclusion is the result of the work you did under equity," Jackson said, noting how interwoven cultural competency is with efforts toward diversity, equity and inclusion. "The competency part comes in where you address whatever deficits you may have so you can work well with people who don't come from your neighborhood or culture. Competency just means you're making an effort to close a gap between differences in understanding."
At innovaTel, providers on our team receive mandatory cultural competency training on an annual basis as part of our commitment to diversity, equity and inclusion. Each year, our DEI committee chooses a topic that the training will focus on, offering providers a chance to gain a deeper understanding on issues that may be less familiar to them, an opportunity to identify and diminish the "deficits" of understanding they have. 
One year, the training focused on racially-informed trauma care. Another year the training focused on issues encountered by the LGBTQ+ community, while a different training dove into the issues surrounding substance abuse disorders. 
"We're getting a more robust viewpoint from multiple people and multiple backgrounds coming together where we can all talk," Ashby said of the annual training sessions and the DEI committee as a whole. "It helps us become aware of what our clinicians' needs are and what the patients' needs are and the needs of the clinics we're serving. It helps make our voice even stronger."
---
Internet Explorer is no longer supported.
Please use a different browser like Edge, Chrome or Firefox to enjoy a full web experience.
It's easy to make the switch.
Enjoy better browsing and increased security.
Yes, Update Now