Learn about innovaTel's solutions during COVID-19 →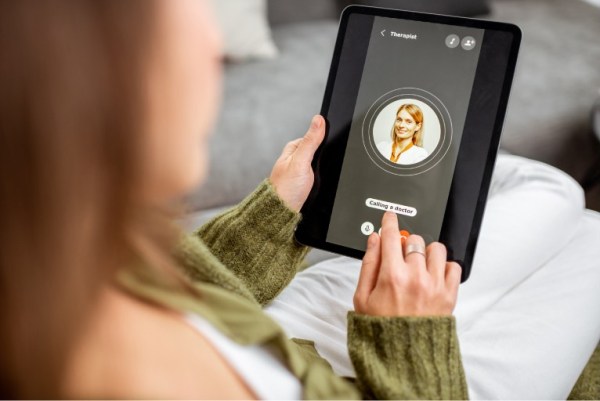 Over the past several months the use of telepsychiatry has increased drastically due to the outbreak of Covid-19. With so many clinicians and patients shifting to a new treatment modality there are bound to be some barriers or hesitations when acclimating. Although there may be uncertainty, we can assure you that successful virtual treatment is possible, especially when you enlist the help of an experienced telepsychiatry provider like innovaTel. innovaTel is clinician owned and operated, which is why we understand the obstacles you may encounter when establishing a telepsychiatry program.
Digital Literacy
While there's no doubt we are living in a digital age, there are still many people who don't feel comfortable using technology. This can be especially difficult when trying something new like telemedicine. To help your patients feel more comfortable with the technology they need to use for treatment, we recommend finding a platform that offers technical support to your patients. If your patients know they have a resource to help in the event they run into issues, this may help them to feel more comfortable with giving it a try.
Having the Right Technology
Another barrier that your patients can run into when preparing to use telemedicine for this first time is having the right technology. For your patients who do not have desktop computers or laptops, it may seem like a telehealth visit is not an option for them. However, many telemedicine platforms are able to be used across many different types of technology, including smartphones and tablets.. By making sure you choose a platform that is flexible, you are creating greater access to care by offering more options for treatment.
At innovaTel, we are also aware that not all patients have the right technology or may live in a rural area where bandwidth is not sufficient for a high quality video connection. In these instances, we recommend that all organizations set up a telehealth room at their clinic, this way, if your patients are able to get to your location, they can use your technology. innovaTel has detailed recommendations on how to set up a telehealth room for the best patient and provider experience.
Privacy Concerns
HIPAA compliance is just as important in telehealth as it is with in-person treatment. This is why we stress the importance of a HIPAA-compliant video conferencing platform to any facility or clinician considering a telepsychiatry program. innovaTe's goal is to seamlessly integrate into your existing workflows, so if your organization is already using a HIPAA-compliant platform, our providers will work in that system. If you do not have one implemented, innovaTel can provide recommendations and we will cover the cost of the HIPAA-compliant platform for our providers.
Additionally, we offer continued IT support throughout your partnership with us. Telling your patients that their treatment is being facilitated using a secure and HIPAA-compliant connection makes them feel more at ease and assured that their information is safe.
Privacy Concerns
Some patients have preconceived notions that services provided via video is of lower quality than in-person care. This is simply not true; however, creating a good first impression during the first visit is crucial in changing this perspective. We recommend that clinicians do a practice run with their equipment and connection each day to make sure everything is working properly before seeing your patients. Additionally, if you are new to providing care through telepsychiatry we recommend doing a practice visit with a family member or colleague to make sure your connection is clear and strong. The quality of the visit can also be dependent on how you communicate with the patient. Eye contact and silent keyboards to be used while documenting can go a long way with making a patient feel comfortable during their visit. The goal is to replicate a face-to-face visit.
Learn More
If you are a clinician or community mental health care center that is interested in learning more about how an innovaTel partnership can help you see more patients using telepsychiatry with ease, we encourage you to contact one of our telepsychiatry experts today to set up a call. For clinicians interested in practicing telepsychiatry from their homes, we encourage you to visit our careers page to learn more about opportunities we have available for a variety of licensures.
---
Internet Explorer is no longer supported.
Please use a different browser like Edge, Chrome or Firefox to enjoy a full web experience.
It's easy to make the switch.
Enjoy better browsing and increased security.
Yes, Update Now