Learn about innovaTel's solutions during COVID-19 →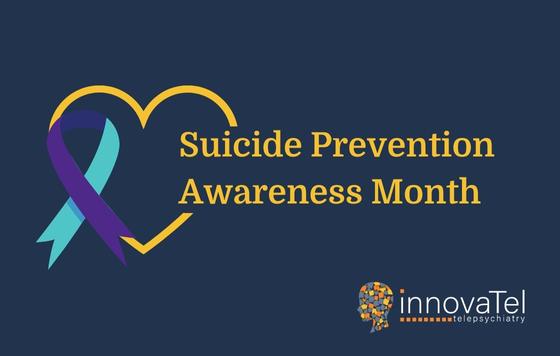 At innovaTel, we look at the work we do through our telepsychiatry partnerships as a means of improving access to quality care. By expanding clinical teams through the addition of highly qualified providers working in remote settings, organizations facing a rising demand for care have the ability to connect patients with treatment more easily.
By its very nature, telepsychiatry removes barriers that may have traditionally prevented a patient from receiving timely care or receiving care at all. 
The same can be said for speed to care, a critical variable for patients navigating particularly severe mental health crises, such as suicidal ideation — a topic that receives additional attention in September in recognition of National Suicide Prevention Month, Suicide Prevention Week and World Suicide Prevention Day.
Data released by the Centers for Disease Control (CDC) in August indicates the U.S. is dealing with a rising number of suicides over the past two years. Following a decline in 2019 and 2020, the number of deaths by suicide increased by about 5% in 2021 and increased again, by 2.6%, in 2022. 
In releasing those numbers, Health and Human Services Secretary Xavier Becerra pointed out that 90% of Americans believe the U.S. is facing a mental health crisis, and access to care is part of the solution.
"We must continue to eliminate the stigmatization of mental health and make care available to all Americans," Becerra said. 
It is that sentiment, a need to improve access to vital care in critical moments, that inspired the establishment of the 988 Suicide & Crisis Lifeline. A national hotline providing immediate mental health support, by text or by phone, the 988 line received more than 400,000 contacts in July of 2023 alone. 
That access and speed to support, for those requiring immediate help in moments of mental health crisis — related to suicide, substance use or other episodes of distress — appears to be helpful. Data released by the Substance Abuse and Mental Health Services Administration (SAMHSA), which facilitates the 988 line, indicate that 98% of those who engage with the hotline get the support they need in the moment and do not require additional help at that immediate time. 
Put simply, speed and access to quality care are helping people navigate mental health and substance use crises in the moment.
As a national leader in telepsychiatry partnerships that improve access and speed to quality care for patients in need and organizations navigating a dynamic mental health landscape, we at innovaTel understand the demands of delivering care. The rising number of suicides in the U.S. comes as fatal drug overdoses continue to set staggering records.
Statistics indicate more than 46 million people over the age of 12 had a substance use disorder in the past year. For its part, SAMHSA is implementing its cooperative vision between 988's ability to offer immediate crisis support and 911's focus on immediate medical attention to help stem the tide of fatal drug overdoses and suicide.
At innovaTel, we are similarly working to build a bridge of cooperative support by making qualified providers available to organizations and ultimately improving access and speed to quality care for patients. 
To learn more about how we do that, explore our clinical services.
---
Internet Explorer is no longer supported.
Please use a different browser like Edge, Chrome or Firefox to enjoy a full web experience.
It's easy to make the switch.
Enjoy better browsing and increased security.
Yes, Update Now