Learn about innovaTel's solutions during COVID-19 →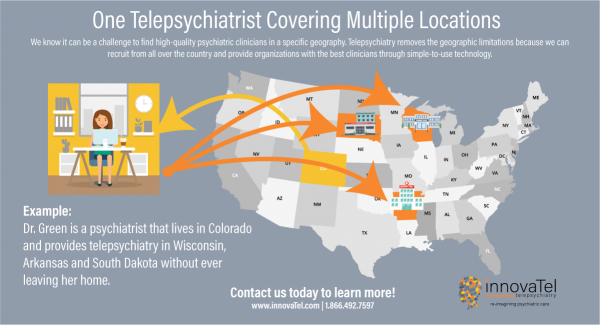 Increasing access to care is the driving force behind what we do at innovaTel. We believe that every patient deserves timely access to mental health care, and we partner with clinicians and mental health clinics in order to make that possible. How exactly is this done? Telepsychiatry increases access to care by optimizing time, removing the barrier of location and encouraging collaboration.
Time
The use of video conferencing technology in psychiatric treatment optimizes time for the clinician, facility and patient. Facilities save time because innovaTel is providing highly qualified clinicians for them to interview instead of having to handle recruitment on their own.
Clinicians who practice telepsychiatry find that they have been given time back in their day that had been previously filled by commutes or traveling between facilities.patients seen faster is because their current staff is at capacity and cannot get patients in.
When we are able to provide our partners with additional clinicians through telepsychiatry, their schedules open up and more patients can be seen. During a recent webinar, we surveyed over 400 mental health professionals regarding wait times and 41% said that it takes an average of one to two months for patients to be seen.
Utilizing telepsychiatry can reduce these wait times significantly and some facilities are able to start offering same day appointments!
Location
Having the ability to practice psychiatry from anywhere is a major reason we have been able to increase the reach of specialized and experienced psychiatrists that may otherwise be out of reach for many rural communities. Removing the geographic barrier will allow more patients to receive timely access to mental health care rather than having to wait until a clinician in their immediate location is available.
Collaboration
According to a study performed by the National Institute of Mental Health, over 50% of all mental health care for common behavioral health disorders begins in the primary care setting.
Many of these patients require further care but may not have easy access to a psychiatrist. When we partner with  primary care facilities, physicians and psychiatrists are able to work collaboratively to create a comprehensive treatment plan for patients that need further expertise to address their symptoms. This collaboration through integrated care is a way for patients to save time instead of being referred out to psychiatrists. In addition decreasing wait time, integrated care using telepsychiatry is also a way for them to access outpatient behavioral health care.
If your facility is interested in establishing a telepsychiatry program, we encourage you to contact us today and one of our telepsychiatry experts will be happy to answer any questions you may have.
---
Internet Explorer is no longer supported.
Please use a different browser like Edge, Chrome or Firefox to enjoy a full web experience.
It's easy to make the switch.
Enjoy better browsing and increased security.
Yes, Update Now