Learn about innovaTel's solutions during COVID-19 →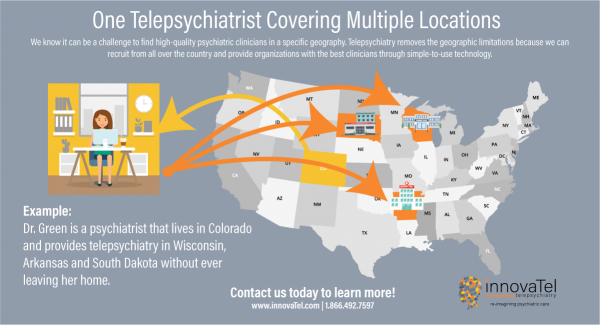 As time goes on, the implications of the psychiatric shortage predict rising statistics in both substance abuse and suicide. The answer to addressing these alarming rates not only lies with policy and legislation but also with utilizing available technology to reach more people in need. Telepsychiatry has proven to be a viable way of bridging-the-gap in care by solving some of the biggest obstacles causing the shortage.
Breaking Down Barriers
Some of the most notable success factors that have been identified in telepsychiatry are its ability to effectively address the barriers of time, money and distance. Clinicians are able to use their time more effectively by cutting out time that would be spent on a commute and use that time to see more patients. A commute or practicing in an office can also cause barriers with working parents that require more flexibility to care for their children.  A virtual connection saves both the facility and the clinician money that would be spent on daily travel and office space.
Creating a Sustainable Growth
In addition to growing the amount of actual behavioral health clinicians, telepsychiatry has made sustainable growth possible for treatment facilities of all kinds by making it more affordable to build their teams. The expense of recruiting and retaining clinicians alone can stifle the growth of community mental health centers, especially in rural areas. When facilities partner with innovaTel, they are never charged  recruitment fees and are not responsible for licensing, DEA and malpractice policy expenses. With this time and money saved, facilities can focus on meeting the behavioral health needs of their community.
Increasing the Reach of Specialized Clinicians
With the behavioral health workforce facing a shortage, the supply of specialized clinicians is even more scarce. Specialized clinicians with sub-specialty training can often make a notable difference when treating complex cases or patients in crisis. Telepsychiatry allows these needs to be met quickly and effectively using a reliable, virtual connection. Without telepsychiatry, it could take weeks or months for a patient to have the ability to see a specialized psychiatrist.
Encouraging Integrated Care
The National Institute of Mental Health reports that primary care facilities, like a general practitioner's office, provide approximately half of all mental health care for common behavioral health disorders. This can be done more effectively when general practitioners collaborate with a psychiatrist when treating patients experiencing difficulties with their mental health. The use of integrated care through telepsychiatry is a quick and cost-effective way for primary care facilities to provide more comprehensive care without having to refer out for psychiatric care.
Be Part of the Solution
If you're interested in learning more about telepsychiatry and how you or your treatment facility can be a part of the solution, contact one of our experts today. innovaTel Telepsychiatry is committed to improving access to care within underserved communities across the country.
---
Internet Explorer is no longer supported.
Please use a different browser like Edge, Chrome or Firefox to enjoy a full web experience.
It's easy to make the switch.
Enjoy better browsing and increased security.
Yes, Update Now