Learn about innovaTel's solutions during COVID-19 →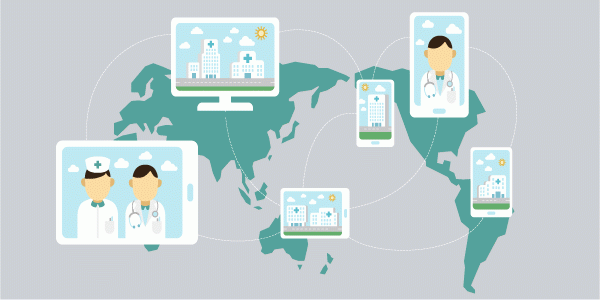 With the behavioral health workforce shortage, community mental health centers often experience the challenge of not having a large enough team to meet the high demand for psychological evaluation and treatment. If this sounds like your organization, you may be wondering how you can successfully set up a telepsychiatry program to meet the needs of your community.
innovaTel was founded to close this gap in care by supplementing clinics like yours with the technology and clinicians you need to efficiently conduct telepsychiatry sessions and meet patient demand.
Getting Started with Telepsychiatry
One of the characteristics that sets innovaTel apart from other telepsychiatry companies is our comprehensive onboarding process. Our telepsychiatry experts understand the challenges that your clinic  faces, which is why we take the time to provide onboarding and training as well as continued support throughout the duration of your contract. As a result, your on-site clinical managers, nurse managers, and operational staff will have access to 24/7 IT and clinical support to ensure timely efficient care.
Research Telepsychiatry Organizations
Thoroughly researching and comparing telepsychiatry companies before bringing them on as a partner is an important step. You should feel confident in the experience the company possesses and have a good understanding of your current needs and how they can meet them. Experience, cost, quality assurance, and professional affiliations are all factors to consider.
Include your Virtual Clinicians in Treatment Team Meetings
When you add a remote clinician to your team it's important to include them in all of the same meetings you would if they were there practicing in person. When you partner with innovaTel, we place clinicians with the intent that they will become an active and long-term member of your treatment team.
Don't be Afraid to Ask for Help
When choosing a telepsychiatry partner it is important that you choose one with both a clinical and IT Support team that is available to you when issues arise. A perk of partnering with innovaTel in particular, is that the 24/7 IT support comes to you at no extra cost. At innovatel, we value long term partnerships and want to help your clinic succeed. At the end of the day we have the same goal, increasing access to care.
If your community mental health center or care setting of any kind is looking for a telepsychiatry partner, we encourage you to schedule an online meeting one of our telepsychiatry experts today. innovaTel is proud to be clinician owned and operated.
---
Internet Explorer is no longer supported.
Please use a different browser like Edge, Chrome or Firefox to enjoy a full web experience.
It's easy to make the switch.
Enjoy better browsing and increased security.
Yes, Update Now