Learn about innovaTel's solutions during COVID-19 →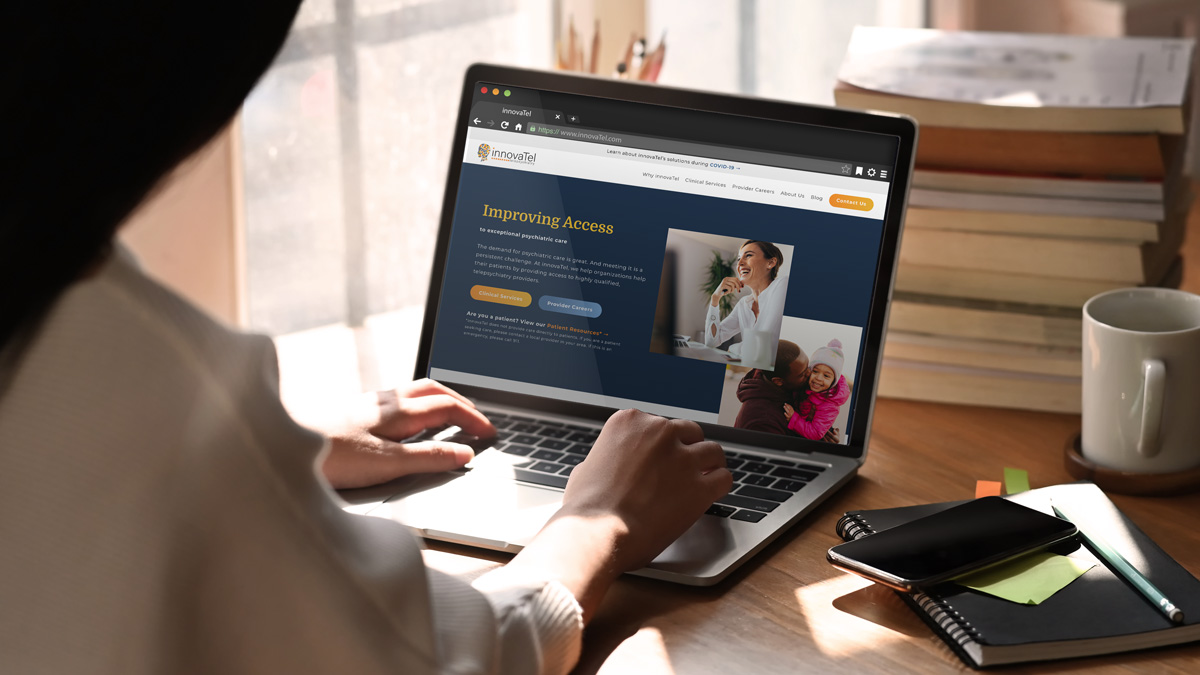 innovaTel looks a little different today. It feels a little different, too. We might even have a bit of a spring in our step.
That's what a new website does — it offers a digital makeover, giving us a chance to put our most resourceful and best-looking foot forward, at all hours.
It also gives our users a new experience, one filled with forward-thinking solutions to challenges, opportunities for providers and valuable resources for a behavioral healthcare industry facing an increased demand for care from patients in need.
Although we've been working on this for a few months, building our new presence behind the scenes and bottling our excitement, we're pretty sure the launch of our new website couldn't have come at a more timely moment as the behavioral healthcare industry evolves and begins taking stock of pandemic-influenced changes that may have long-term benefits and impacts.
Our goal, above all else, is to improve access to psychiatric care. And our new website is a beautiful, informed reflection of that mission.
As a telepsychiatry partner founded on our clinical roots, and a Platinum Partner of the National Council for Behavioral Health, innovaTel is acutely aware of the challenges clinical leaders face as they manage the needs of their organization, their providers and their patients.
Our new website heeds those insights, allowing clinical leaders in various settings to easily navigate through and learn more about our unique services, our novel partnership approach and our strategic telepsychiatry staffing process.
Most notably, our new website:
Details our partnership process, which is customized to meet the needs of the diverse clinical partners we serve

Showcases innovaTel's innovative solutions to common clinical challenges

Illustrates how innovaTel's remote psychiatrists, psychiatric nurse practitioners  and licensed clinical social workers become embedded members of clinical teams across varied clinical settings
Our new website also gives us an opportunity to connect with providers who are interested in offering treatment as a remote member of a team. Those providers will gain an understanding of innovaTel's approach to telehealth, most specifically:
The long-term support our providers and clinical partners receive from our clinical liaisons

The methods we use to seamlessly integrate telepsychiatry services into our partner organizations

The access our partnerships offer to providers who specialize in treatment for complex conditions such as the SMI and co-occurring populations, and to providers who practice specialties not available in a certain geographic area
We are really excited about our new look and hope that it's helpful to you!
innovaTel is focused on improving access to care because we know improved access improves outcomes. A more efficient journey through our website allows us, clinical leaders and the providers we partner with to focus more time on the end goal and less time searching for answers. Schedule a meeting with our team to learn more. 
---
Internet Explorer is no longer supported.
Please use a different browser like Edge, Chrome or Firefox to enjoy a full web experience.
It's easy to make the switch.
Enjoy better browsing and increased security.
Yes, Update Now