Learn about innovaTel's solutions during COVID-19 →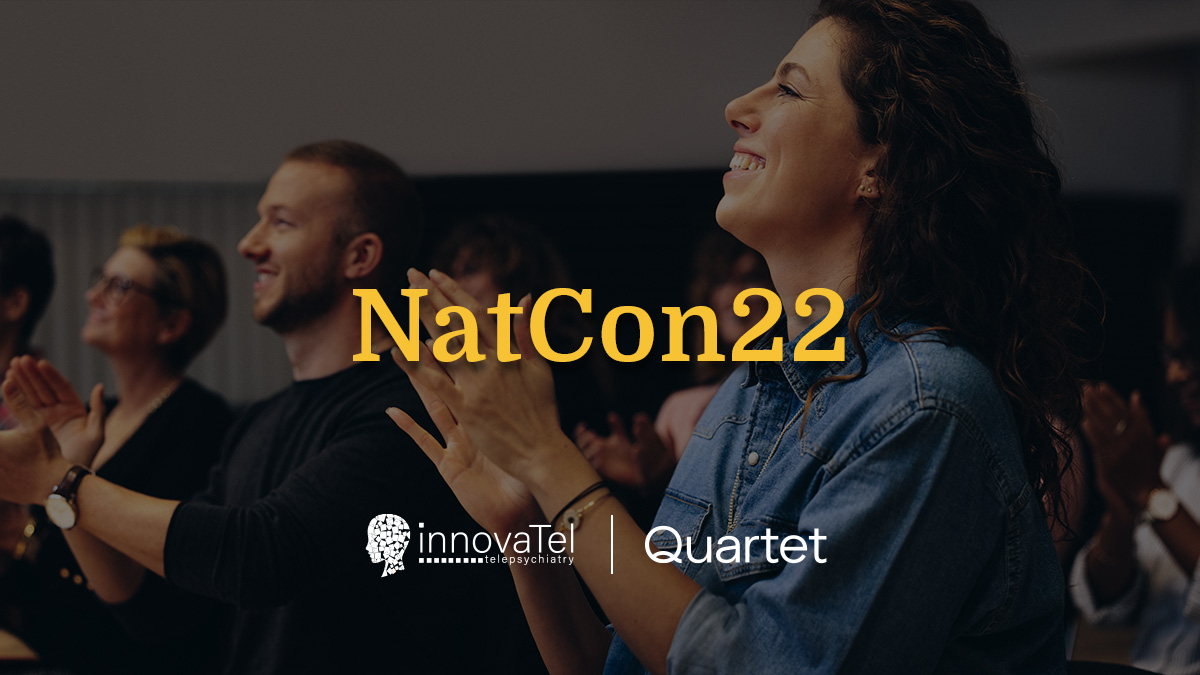 NatCon, held in early April, is one of those can't-miss industry events. It's the largest mental health and substance use treatment conference in the world, bringing together 5,000 attendees, 500 speakers and 200 exhibitors at National Harbor in Washington, DC. 
And, after the last couple years, it's exciting to return to the conference this year in person. 
We look forward to connecting with colleagues and partners, making new connections and sharing our vision and insights on the critical role telehealth plays in enhancing speed to care. And this year, we're experiencing NatCon with Quartet, a company — with which we've coupled — that is leveraging technology to create a better mental healthcare system. 
It is a particularly pivotal time for the mental healthcare and substance use treatment industry, as the challenges faced by community organizations and providers offering care have received recognition at the federal level, prompting renewed and unprecedented support. 
That support comes at a time when the demand for care continues to increase, across every community, and as patients in need of care present with more complex, sometimes co-occurring conditions. It also comes at a time when evidence-based practices have illustrated the benefits of integrated care — particularly for community-based organizations such as FQHCs and CCBHCs.
And, it comes at a time when telehealth, most specifically telepsychiatry, has demonstrated the impact it can make during even the most emotionally turbulent of times. 
It's why, with our new partners at Quartet, we're looking forward to the opportunity we have to present at NatCon. Our joint presentation will focus on telehealth's impact on care while also discussing innovative value-based payment models.
Jon Evans, CEO at innovaTel, will deliver the presentation along with Jay Meyers, Chief Growth Officer at Quartet. The presentation, which will be delivered April 12, will pivot on these critical points: 
As a result of the challenges over the past two years, the need for care has increased without commensurate additional availability in clinical capacity. 

The adoption of tele-behavioral healthcare and acceptance of supportive digital therapy platforms has broken down many barriers to care.

Sustainable reimbursement remains a challenge — and innovaTel + Quartet believe it can be improved by building innovative, value-based payment models.
In addition to our presentation, we will positioned in the exhibition area throughout the conference — at booth #703 — where we hope to connect with NatCon attendees to learn more about the challenges they're facing and discuss how innovaTel's unique telepsychiatry partnerships may help them improve access to care. 
Our partnerships are different right from the beginning, as we hire highly qualified psychiatrists, psychiatric nurse practitioners, licensed clinical social workers, addiction specialists and Medical Directors and then work with organizations in need of greater capacity to find an ideal, remote addition to their clinical team. And our clinical liaisons ensure a seamless integration, allowing our partners and their clinical staff to focus on providing treatment to those who need it most.
Visit us at NatCon to learn more, or schedule a meeting to discuss your individual needs.
---
Internet Explorer is no longer supported.
Please use a different browser like Edge, Chrome or Firefox to enjoy a full web experience.
It's easy to make the switch.
Enjoy better browsing and increased security.
Yes, Update Now