Learn about innovaTel's solutions during COVID-19 →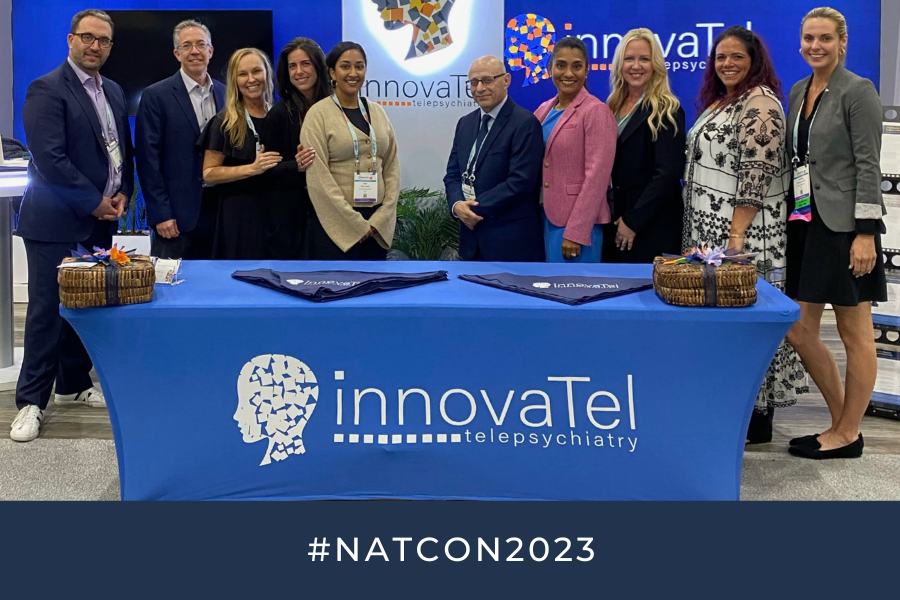 Earlier this month, we concluded NatCon23, the world's largest mental health and substance use treatment conference hosted by the National Council for Mental Wellbeing, and we're still very much invigorated by the entire experience. 
As a leader in telebehavioral health, innovaTel Telepsychiatry and our team of accomplished providers were inspired by the opportunity to join the vital conversations around the state of mental health and substance use in the country. We also loved being able to highlight innovators in the field with our sponsorship of the Shark Tank competition, and we couldn't get enough of the Puppy Park — for obvious reasons.
Here are some of the moments at NatCon23 that stood out to us: 
Attending. We were thrilled to send more than a dozen innovaTel Telepsychiatry and Quartet Health team members to NatCon23, where more than 5,000 attendees came together alongside 500 speakers and 200 exhibitors. Of all the conferences held every year, this is one we never want to miss and it's one we always look forward to.
CCBHC expert panel. Our understanding of and work with CCBHCs over the years — from the initial designation process through ongoing designation maintenance — allowed us to host a CCBHC expert panel, including leadership from several of our CCBHC partners, state associations and the National Council itself, not to mention our very own innovaTel psychiatrist and Medical Director Dr. Veronica Harsh. During the panel, we offered attendees enlightening insights into the challenges and opportunities CCBHCs experience.
Shark Tank. As an organization that works tirelessly to improve speed and access to high quality behavioral health care, we always appreciate the opportunity to leverage technology and elevate innovation in the field — which is part of the reason we love NatCon's Shark Tank event so much. Pacific Clinics + Provisio Partners won the grand prize of $10,000 and we're excited to see what they will do next!
Presentations. While there were a number of tremendous presentations at NatCon23, we're partial to the one focused on value-based care, delivered by Quartet's VP/GM, Veena Murthy. Value-based care has illustrated its ability to improve outcomes for patients and reduce costs for the organizations delivering the treatment. 
Socializing. NatCon23 gave us the opportunity to connect, in person, with a number of attendees. From our exclusive social hour at Mastro's Ocean Club to our CCBHC reception at the JW Marriott to our booth across from the CCBHC lounge, we welcomed the chance to meet, network and catch up with colleagues and peers. 
Candy and canines. We would be remiss if we failed to mention how much fun we had hosting NatCon23's Puppy Park and the adorable puppy-themed cotton candy treats for attendees who needed a little something sweet — from puppy cuddles to airy, sugary goodness. 
Rob Lowe's parting words. As a featured speaker at NatCon23, actor Rob Lowe addressed attendees with a powerful message about his own battle with substance use: "You're saving people's lives. If they don't get it the first time, you never know when it will come back to them," he said. "What you're doing is planting a seed that will sprout one day, when they're ready. And … we take our car in for a check up, we should take our spirits in for a check up."
For everyone we connected with at this year's event, thank you! We look forward to a productive 2023 and are already excited about NatCon24.
If you weren't able to connect at the conference this year, or want to reconnect, contact us today.
---
Internet Explorer is no longer supported.
Please use a different browser like Edge, Chrome or Firefox to enjoy a full web experience.
It's easy to make the switch.
Enjoy better browsing and increased security.
Yes, Update Now