Learn about innovaTel's solutions during COVID-19 →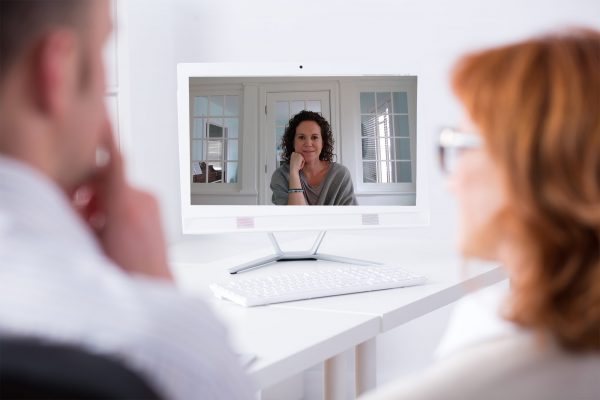 One of the most common assumptions made about telepsychiatry is that it's a temporary solution for meeting the increasing demand for mental healthcare. This assumption is based on the idea that telepsychiatry sessions are less effective than in-person sessions. However, after partnering with community mental health centers and building a network of clinicians from across the country, innovatel has found telepsychiatry to be effective and well received by patients and team members of the onsite clinical team.
Patient Satisfaction & Continuity of Care
The key to successfully using telepsychiatry as a long term solution is finding a partner that is dedicated to patient continuity and one that values long-term relationships. innovaTel understands that community mental health centers are focused on patient satisfaction, which is why our partners decide which clinicians join their team. Some of our clinicians have been partnered with the same facility for over five years, allowing patients to get to know the clinician just as they would in any other setting.
Sustainably Building Treatment Teams
Mental health care facilities often find it hard to keep up with the demand for care. When building their teams from the local pool of talent dries up, they are forced to recruit from other areas; becoming expensive and time-consuming. innovaTel is able to alleviate the time and cost of recruitment for its partners by presenting them with a  network of remote clinicians to choose from. This makes growing treatment teams far more sustainable given the overall shortage of clinicians in the workforce.
Additionally, innovaTel's clinicians become long-term team member of the facilities they practice through. innovaTel clinicians are able to have clinic interactions via simple to use technology which allows them to play an active part of the treatment team as if they were there in person.
Providing Work-life Balance for Clinicians
Just like any other organization, happy employees are long-term employees. innovaTel provides clinicians the ability to work remotely,flexible hours and dedicated IT and clinical  support. This has helped clinicians feel as though they are able to maintain a high-quality work life and personal life.
In addition to work-life balance, innovaTel clinicians have the opportunity to be a part of a large network of like-minded mental health professionals. This encourages a team approach in providing the best care to those needing services and results in clinicians feeling supported in their careers with the ability to focus on patient care.
Removing the Barrier of Distance
Access to mental health care is a challenge that communities all over the country are facing. The use of telepsychiatry increases the number of patients that can be treated by taking away the barrier of distance. This way, a clinician can live wherever they choose and still practice in the states in which they are licensed.
If your organization is interested in partnering with a telepsychiatry provider dedicated to providing long-term solutions to care, contact one of innovaTel's telepsychiatry experts today to schedule an online meeting to learn more.
---
Internet Explorer is no longer supported.
Please use a different browser like Edge, Chrome or Firefox to enjoy a full web experience.
It's easy to make the switch.
Enjoy better browsing and increased security.
Yes, Update Now