Learn about innovaTel's solutions during COVID-19 →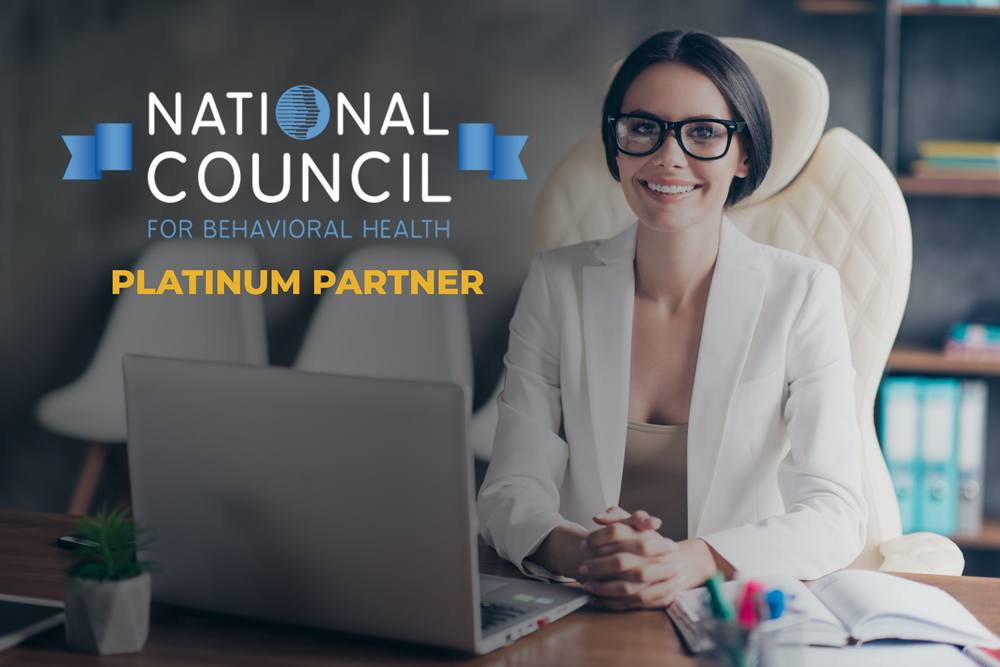 Dedicated clinical leaders in the behavioral health field regularly seek best practice guidance from peers, experts and advocacy organizations. As care evolves and needs change, it can be difficult to keep pace with every innovation and how advancements may support efforts to deliver exceptional care across varied clinical settings.
A reliable resource for credible information, crucial updates and needed advocacy is, and has long been, the National Council for Behavioral Health — a not-for-profit association that acts as a "unifying voice" for health care organizations across the country that provide treatment for addiction and mental illnesses.
The respect the association commands in the field, earned for its advocacy over the years, is the biggest reason why innovaTel is proud to be named a National Council Platinum Partner. The partnership reflects the goals innovaTel and National Council have in common, most notably a mission to improve access to care for patients who need it.
"We are honored to be a Platinum Partner of the National Council for Behavioral Health. Under the leadership of the National Council, the system of care has improved significantly," Jon Evans, innovaTel's CEO, said. "There is finally a discussion on a national platform about the critical importance of a system of care that provides timely access, is supported with sustainable funding and available for everyone. Those of us who have worked in the system for many years are grateful for the continued advocacy and support provided by the National Council."
innovaTel aims to improve access to care by offering telepsychiatry partnerships to clinics and organizations in need of additional treatment support, and the National Council understands the importance of this approach as the industry evolves and the needs of patients become greater and increasingly complex.
"Ensuring everyone who needs care for a mental illness or substance use disorder can get it has always been challenging, but telehealth can help close that gap," Chuck Ingoglia, president and CEO at the National Council for Behavioral Health, said. "Telehealth is here to stay, and organizations are rapidly implementing a hybrid model of healthcare delivery. innovaTel's support for community behavioral health organizations through development of its hybrid model makes it easier for clinicians to meet local needs and support recovery. Making people and communities healthier is their passion and ours."
Beyond a seal of approval, innovaTel's Platinum Partnership with the National Council represents a like-minded and like-missioned look at the delivery of behavioral health and addiction treatment. For clinical leaders facing challenges related to provider capacity, patient demands, scheduling difficulties, a lack of access to specialized providers and complex conditions such as those within the SMI and co-occurring populations, this partnership between innovaTel and the National Council offers peace of mind amid uncertainty.
It means innovaTel's hybrid care model involving clinical partnerships that offer highly qualified remote psychiatrists, psychiatric nurse practitioners and licensed clinical social workers, provide a reputable, viable and sustainable approach to improving access to care — for CCBHCs, Community Mental Health Centers, integrated care settings, addiction treatment centers and beyond.  
The demand for care is on the rise, which means the recruitment and retention of providers will continue to be top of mind for clinical leaders faced with treating an increasingly diverse population of patients. innovaTel's 95% retention rate for providers illustrates the efficacy of our strategic approach to telepsychiatry partnerships, which benefits patients in need and clinical leaders in search of lasting solutions.
Although needs are often immediate and urgent, innovaTel, and its telepsychiatry partnerships offering a hybrid approach to care, offer a long-term, sustainable path forward for clinical leaders looking to improve patient outcomes by improving access to care.
Learn how a custom partnership with innovaTel could benefit your organization.
---
Internet Explorer is no longer supported.
Please use a different browser like Edge, Chrome or Firefox to enjoy a full web experience.
It's easy to make the switch.
Enjoy better browsing and increased security.
Yes, Update Now