Learn about innovaTel's solutions during COVID-19 →
Past, Present and Future: Enhancing Care and Revenue with Telepsychiatry
January 4, 2021 | Uncategorized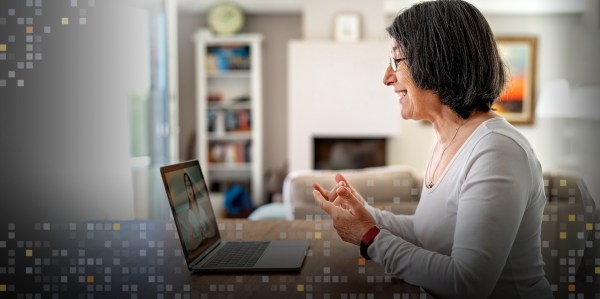 The rapid adoption of telehealth during 2020 has allowed patients and providers to stay connected during challenging times. And while telehealth is new for many, innovaTel's experienced team has over 10 years of telepsychiatry experience and we have been getting a lot of questions regarding the rapidly evolving regulatory environment.
InnovaTel is pleased to welcome Jordana Bernard as the new Chief Compliance Officer. Jordana has extensive experience working in the telemedicine industry and breaks down the past, present and future of telehealth in this blog post.
Past
At the federal level, the rules for how providers are paid for telehealth under the Medicare program are defined in section 1834m of the Social Security Act. Generally, the law allows separate payment for a telehealth service when a Medicare beneficiary goes to a clinic, hospital or certain other types of medical facilities to receive the service and when the facility is located in a federally designated rural area. Payment is also restricted to certain types of practitioners, including physicians, NPs, LCSWs and a few others, and for certain approved services like consultations and office visits that are provided using interactive audio-video technologies. When these conditions for payment are met, Medicare pays a professional fee and an originating site facility fee.
Prior to the COVID-19 public health emergency (PHE), the statutory limitations on payment for telehealth have been around for nearly two decades, however, policies began to evolve in 2018. At that time, Congress enacted the Bipartisan Budget Act of 2018 and the SUPPORT for Patients and Communities Act which removed the rural geographic restriction on payment for providers delivering substance use disorder and co-occurring mental health disorder treatments to patients and for services provided to patients in their homes.
Beginning in 2019, CMS expanded reimbursement opportunities for Medicare telehealth services including a bundled payment for opioid use disorder treatment via telehealth. CMS also created payment codes for remote patient monitoring and new communication technology-based services (CTBS) such as virtual check-ins by phone and video and eVisits.
By 2020, there were approximately 100 telehealth services on the approved list for payment under Medicare. At the state level, states have been more progressive and less restrictive than Medicare but many states still impose some limitations around types of providers, services, sites of care, and modalities.
Prior to COVID-19 all states reimbursed providers for live video visits under Medicaid fee-for-service, however, some states had restrictions on where the patients could be located to be eligible for reimbursement. Additionally, the majority of states have enacted laws that target coverage and payment for telehealth services by the commercial insurance plans – often times referred to as the commercial payer telehealth parity laws. Commercial payers have also trended towards offering broader coverage of telehealth services, including in their Medicare Advantage plans.
Present
With the arrival of the COVID-19 pandemic in early 2020, the crisis became the trigger for accelerated legislative and regulatory action to remove the longstanding restrictions and drive utilization of telehealth.
In March and April, Congress passed sweeping legislation addressing the barriers to telehealth under the Medicare program. These legislative changes coupled with the emergency authorities granted to HHS and at the state level set the ball in motion for a flurry of massive policy changes that expanded telehealth benefits and enabled broad reimbursement for providers during the public health emergency.
Under Medicare, the rural geographic, originating site, provider type and modality restrictions were lifted enabling payment of an expanded list of covered telehealth services.
Policy changes also allowed reimbursement for telehealth services provided using new types of modalities including audio-only and telephone for the first time.
During COVID-19, CMS also expanded payment for CTBS, allowing LCSWs, clinical psychologists and other practitioners who do not normally report E/M services to be able to bill.
States followed Medicare's lead by implementing broad policy changes including allowing telehealth services to be delivered to patients at home and by telephone. Other regulators implemented new rules and waivers to ease the restrictions and increase access to remote healthcare services during the public health emergency.
For example, the DEA implemented waivers that allow prescribing controlled substances via telehealth without an initial in-person visit and buprenorphine using the telephone without a face-to-face visit (either in-person or via telehealth). These policy changes significantly enhanced patient care and enabled payment for providers furnishing services through telehealth.
Future
The continuation of the COVID-19 telehealth payment policies will require further regulatory and legislative actions.
At the federal level, CMS implemented several changes to Medicare Part B telehealth payment policies in the 2021 CMS Physician Fee Schedule (PFS) final rule and interim final rule that go into effect January 1, 2021.
Key payment policy changes that impact telepsychiatry/telebehavioral health providers are summarized below:
Makes coverage and payment permanent for (1) seven temporary codes allowed during the public health emergency including CPT code 90853 (Group psychotherapy), and (2) two new telehealth HCPCs codes, G2211 (Complex E/M visit add-on) and G2212 (Prolonged outpatient/office visit)
Finalizes payment for 60 temporary telehealth services added during the public health emergency (e.g., new category 3 level codes) through the calendar year in which the emergency declaration expires including CPT codes 99349, 99350 (Home visits, established patients for treatment of SUDs/co-occurring mental health disorders), CPT codes 96130- 96133, 96136- 96139 (Psychological and neuropsychological testing)
Adds new payment for LCSWs and other QHPs who do not independently bill E/M visits for brief check-ins by phone or video, HCPCS code G2251 or store and forward, HPCS code G2250
Makes payment permanent for eVisits by LCSWs and other non-physician providers, CPT codes 98970-98972
Adds new payment for physicians and QHPs for extended virtual check-ins by phone or video (11-20 minutes), HCPCS code G2252
Implements major changes for office/outpatient E/M coding and documentation requirements including increased reimbursement for follow-up visits, CPT codes 99212-99215
Allows direct supervision of the billing provider via telehealth using interactive audio-video technology through the end of public health emergency or end of 2021 (whichever is later)
Congress also included an important provision in the end-of-year COVID-19 stimulus and government funding package. This provision removes the rural geographic restriction and adds the patient's home as an eligible originating site for telepsychiatry/telebehavioral health services after the public health emergency.
Unfortunately, this provision also imposes a requirement for an in-person pre-existing relationship in the prior six months. Although a provision to extend the Ryan Haight waiver flexibility through 2021 did not make it in to the final bill, the final appropriations report directed at the Department of Justice included language directing the DEA to issue the Special Registration regulations.
Recent federal legislative and regulatory policy changes create expanded reimbursement opportunities for telepsychiatry/telebehavioral health providers in 2021. Similarly, a growing number of states and commercial payers have already taken action to adopt COVID-19 telehealth payment policies. Although the industry would have welcomed greater certainty around which telehealth policies will remain permanent after the public health emergency, it is anticipated that the public health emergency will remain in effect well into 2021. During this time, policymakers will have the opportunity to gain valuable insights about the impact of the COVID-19 expansions on telehealth which will help inform future rulemaking and payment reforms.
Join us for a webinar with the National Council for Behavioral Health, Telehealth's Rapid Adoption in 2020 and Building Sustainable Telehealth Programs For The Future on January 21 from 1-2pm EST. During the webinar we'll dive into current payment policies and billing opportunities for telepsychiatry and discuss the outlook for new payment in 2021. You can register for this webinar here.
---
Internet Explorer is no longer supported.
Please use a different browser like Edge, Chrome or Firefox to enjoy a full web experience.
It's easy to make the switch.
Enjoy better browsing and increased security.
Yes, Update Now