Learn about innovaTel's solutions during COVID-19 →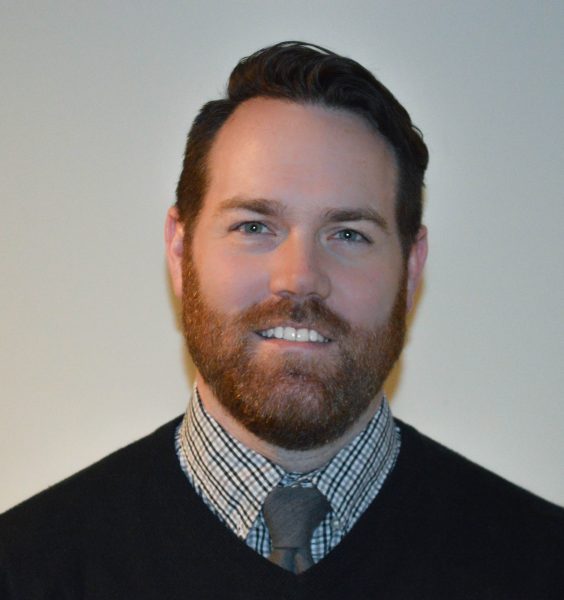 Dr. Ashby has been a telepsychiatrist with innovaTel for almost five years. In this interview, he sat down with Lauren Lashbrook, Director of Strategic Partnerships, to discuss his experience as a telepsychiatrist and what the transition looked like for him from running his own private practice to becoming a full-time telepsychiatrist. Just wait until you hear how he involves his pets.
Tell us a little bit about you, why did you want to pursue a specialty in child and adolescent psychiatry?
I had always planned on going to medical school and had originally thought I would be doing OB-GYN. However, I realized I didn't like surgery but was drawn to the complex family interactions and mental health issues. I've always enjoyed working with kids, so when I made the decision to pursue psychiatry, I knew from day one I wanted to work with children.
How long have you worked as a telepsychiatrist and what did you do before working with innovaTel Telepsychiatry?
After completing my fellowship, I opened a private practice with three of my other colleagues that I went through training with. I worked there for 5 years before starting telepsychiatry part-time to supplement my income, three months later I went full-time with innovaTel, and 6 months later closed my private practice and starting working from home. That was almost five years ago now.
Can you tell me about transition from private practice to telepsychiatry?
I had no telepsychiatry experience whatsoever before joining innovaTel. That's why I started part-time, to see how I liked it and more importantly to see how patients and families liked it. The fact that I went full time after three months says a lot about how I felt about it.
The decision to go full time was hard because my community, like many, is underserved and there are not enough child and adolescent psychiatrists where I live. I knew that if I closed my practice, my families would have a hard time finding services. It was very important to me to make sure that I was still serving communities that were underserved and the agreement that I made with myself was that if I was able to serve MORE families, then I would continue with telepsychiatry.
With telepsychiatry, just being able to focus on patient care, and not the administrative responsibilities of managing a practice allows me to actually see more patients. I kept track of all of those numbers the first year to keep the commitment I made to myself, I wanted to make sure I was treating more patients and making an impact and it was clear, I was.
What does a day in the life of a telepsychiatrist look like?
Even though I work from home, my kids are still in school and daycare. I get my kids ready for their day and when I get home from dropping them off, I log in to my computer just like I would at an office.
I review my caseload for the day before my patients start, prep the day and then get started at 8:00 AM.
The nursing staff brings the patients into the room, and I watch the nurses get vitals and I watch the interaction between the nurses, kids, and families. I then go through the appointment just like I would if we were face-to-face and then if I need to talk to the parents or children individually, I will instruct them accordingly.
When the appointment wraps up, I am finishing my notes and electronically prescribing any medications and then prep for the next patient. Doing this, allows me to be much more efficient with my documentation. I'm not left doing hours of documentation in the evening like I was at night in my private practice. Because of the technology and the patient not seeing me type, I am able to document concurrently without interrupting the patient flow or breaking eye contact.
How do you collaborate with the rest of the treatment team at the facilities that you work with?
Either they will step in the room in between patients just as if I was there on site or they will send me emails throughout the day. Since I'm at my computer all day, I'm able to answer emails very quickly.
It's the question everyone wants to know, does it feel different treating kids via technology instead of face-to-face? Do you think this impacts their treatment?
No, in my opinion, it does not affect their treatment whatsoever. For many kids, they may do better, they are more inclined to talk through the technology vs. me being in the room.
I think psychiatrists will always try to find a way to make themselves connect with their patients and their family. When I was in private practice, my fish aquarium was a big hit, my patients always wanted to see my fish and it was something else that we could chat about, it really helped break the ice.
In telepsychiatry, I don't have a fish tank, but I do have my cat and my dog. If I have a child that is having a hard time settling down or is really shy or guarded, I will ask if they want to see my pets, and this is often a great tool.
Using my pets, I know my patients and families feel connected with me and start building a relationship with me without knowing more about me than the fact that I have a cat and a dog.
How do the children and families you see feel about the technology?
The children and teenagers usually don't question it at all. This is their era. Everything in their world revolves around technology. Sometimes parents or grandparents may be cautious initially, but after the first appointment, they have come around.
Here's a story I like to tell, the clinic I work in always has the patients fill out a patient satisfaction survey, I would still be on the screen during the survey, they would always forget that I was on screen, and I heard very positive reviews.  I have heard that these patients satisfaction surveys reveal that the telepsychiatry services have a higher and more positive return response than the in-person services.
Tell us your favorite telepsychiatry story.
I have two. If you are talking about the clinic interaction, I do feel like I am a part of the team because I have been at the same clinic sites for 4 going on 5 years, even though I have never been there physically.
For my birthday one year, they brought me a cake and sang me happy birthday even though I was on screen, I blew out the candles through the screen and then they ate my cake in front of me.
From a clinical perspective, hearing patients tell me that they feel happy again or they feel like themselves again is always the best. When they come back and tell me that they are doing well in school, these are the reasons that I do what I do. It's hard to separate the favorite cases from private practice and telepsychiatry because the care is similar and it's focused on outcomes, whether that's in person or through technology, to me, there is no difference.
What is one disadvantage to telepsychiatry?
I've been asked that question but I really struggle because I enjoy it so much. How can there be a disadvantage if I get to do the same job but get to wear pajamas and shorts to work every day?
How can mental health affect a child's development?
This is one of the reasons I enjoy child and adolescent treatment. My whole job is normalizing development so that I can increase the chances of patients not needing psychiatric services long term.
An ADHD child could be very bright but is getting poor grades in school and they go untreated, this leads to behaviors and choices that could be getting them in trouble. If I can offer services, I can normalize their development, I can get them treated, excelling in school and prevents a whole cascade of negative outcomes.
What is your favorite thing about working for innovaTel Telepsychiatry?
For me, it's the enormous level of support and relationships that I have been able to develop through innovaTel. Even though I work from home, I feel supported by the whole innovaTel team, my other physician colleagues and the clinics that they partner with.
If you would like to learn more about telepsychiatry careers at innovaTel, check out our career page to see open positions, telepsychiatry benefits and more clinician testimonials.
---
Internet Explorer is no longer supported.
Please use a different browser like Edge, Chrome or Firefox to enjoy a full web experience.
It's easy to make the switch.
Enjoy better browsing and increased security.
Yes, Update Now