Learn about innovaTel's solutions during COVID-19 →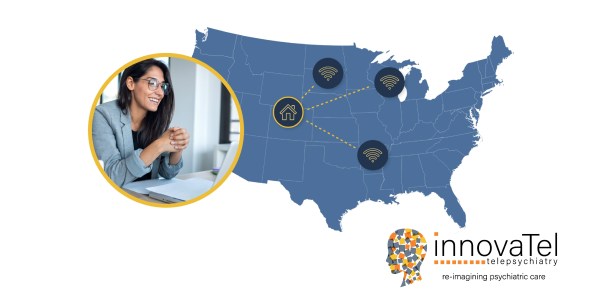 At innovaTel, we understand that 2020 was a challenging year for all and we know that all organizations had to pivot quickly to keep patients and providers connected during such challenging times. We are honored to have partnered with organizations to help them build and expand their provision of services to individuals who are in need.
We're starting this year with appreciation for the partnerships we have formed over the last seven years. The pandemic increased the need for and use of telepsychiatry services, and we were happy to put our expertise to work for clinics and organizations needing additional, innovative support to meet patient demand.
We know that all behavioral health organizations are still trying to manage the increasing day-to-day needs of their patients and staff and there are still challenges ahead.
Last year, we were fortunate to have added our new Chief Compliance Officer, Jordana Bernard who has over 20 years of telehealth regulatory and reimbursement experience. We have also grown our business development team to support innovaTel's goals of expanding our partnerships across the country. And, we're very grateful to have expanded our clinical team by 50% in 2020, adding more experienced psychiatrists, psychiatric nurse practitioners and licensed clinical social workers.
Our restructured advisory board now includes former U.S. Representative Patrick J. Kennedy as co-chair alongside Linda Rosenberg, former president and CEO of the National Council for Behavioral Health, which offers us strong, seasoned and empathetic guidance on a variety of relevant issues. We are so fortunate to have leaders like Patrick and Linda who have brought the conversation of behavioral health and addiction treatment to a national stage. And, our expanded geographic footprint of service partnerships, which increased to 20 states in 2020, illustrates our valuable versatility when it comes to understanding and navigating new landscapes, which almost always come with their own set of policies.
We are also grateful for our continued partnership with the National Council for Behavioral Health. innovaTel is a Strategic Partner, and through our work together, we have continued to advocate for sustainable behavioral health reimbursement rates, focused partnerships to increase access to behavioral health care and support the organization's work for the continued expansion of CCBHCs.
Last year presented many challenges, and we know you anticipate the need for behavioral health care to continue to grow as the industry awaits a "second wave" of patients seeking care in response to COVID-19. That's why we're proud of our flexibility, which has allowed for most patient encounters with telepsychiatry partners to happen in the patient's home. This shift in delivery of care has decreased no-shows significantly.
With a 70% increase in clinician interest in joining our team since the start of the pandemic, we're confident we can find solutions to your organization's challenges. We understand the need is great, which is why we remain extremely selective in our hiring process and have focused some of our recruitment efforts on those experienced with SMI and co-occurring patient populations, in addition to expanding our partnerships with CCBHCs and providing medical directors for the organizations that need them.
We look forward to discussing how we can be a meaningful partner for your organization.
---
Internet Explorer is no longer supported.
Please use a different browser like Edge, Chrome or Firefox to enjoy a full web experience.
It's easy to make the switch.
Enjoy better browsing and increased security.
Yes, Update Now