Learn about innovaTel's solutions during COVID-19 →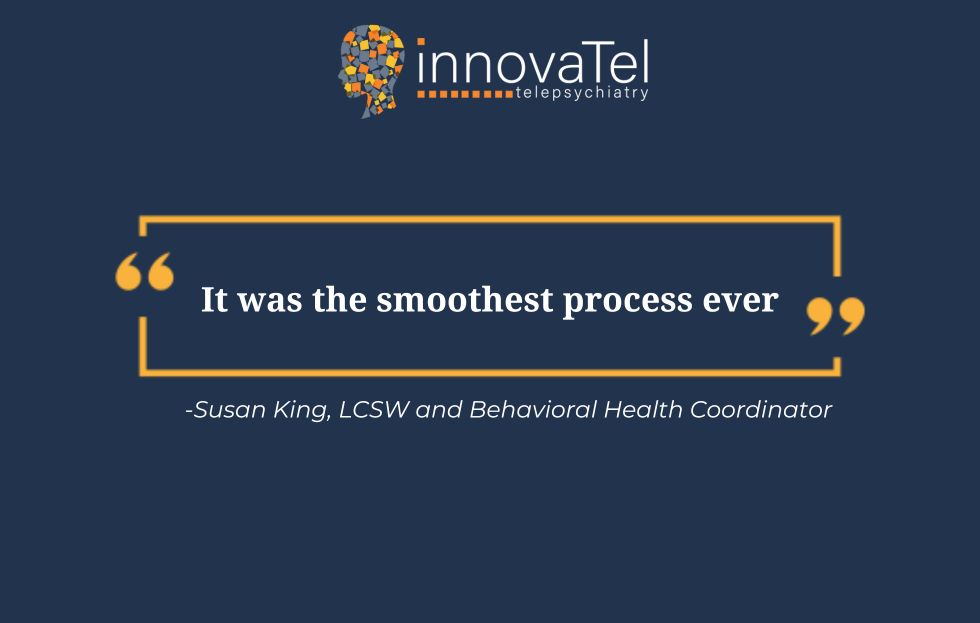 River Valley Health & Dental, a federally-qualified health center, offers a continuum of care to those living in Pennsylvania's Lycoming County — which covers 1,200 square miles and is home to more than 114,000 people. 
With 17,000 patients who rely on the FQHC to act as a one-stop shop for medical care, dental care, reproductive care, chiropractic care, financial services, behavioral health, social services, legal services, and pharmacy services, it's a wonder that River Valley is able to coordinate psychiatric care for patients with speed.
Telepsychiatry has provided that much-needed pathway, according to Susan King, a behavioral health coordinator and licensed clinical social worker for River Valley Health & Dental.
"Having telehealth, in general, and especially for psychiatry, has been phenomenal especially for access because I can reserve slots. I had a visit with someone this morning and they are going to see the psychiatrist tomorrow," King said. "Out in the community, the soonest appointment would be September. We can get people in within a couple of days."
Access to behavioral health support at River Valley Health & Dental hasn't always been available. As an FQHC, the non-profit, community-based, healthcare organization is required to provide certain services to its patient population, including access to a licensed clinical social worker. Psychiatry and therapy, for River Valley Health & Dental, became a necessity within the past five years that needed to be integrated to most effectively serve its patients.
"Most of the decisions are made with the interest of how we can best serve the community we live in," King said. "It had become so difficult to access psychiatry care for people who have medical assistance that it became apparent we needed to dig in and connect our patients directly here and that's when we looked into telepsychiatry."
Prior to initiating a telepsychiatry partnership, King said she had to "run a constant algorithm" in her head to see which outside agency accepted which insurance and was willing to treat patients with specific challenges. Those variables, and more, often limited a patient's options for care. 
When River Valley Health & Dental began working with innovaTel, things changed. 
"I wanted providers who were comfortable handling all manner of patients. I was interested in providers who were comfortable with the gamut of ages and clinical areas of expertise. And we were able to get that," King said. "It means a lot. I can then be in that visit with a patient and know I am giving someone an appointment the next day and they will have their needs met. I don't have to wait. I just know my patients will be taken care of."
From a logistical perspective, King characterized the process of onboarding and integrating providers as "responsive," "professional," and "seamless," particularly when it comes to communication, which she attributes to the knowledgeable clinical liaison she works with at innovaTel. 
"Our experience with innovaTel has been head and shoulders above others because of that communication piece. I don't have to worry about where a conversation I'm having with my clinical liaison is going to go. Everyone knows what's going on," King said. "As we grow, I feel comfortable that innovaTel will be able to keep up with us." 
To download a PDF copy of this success story, click here.
---
Internet Explorer is no longer supported.
Please use a different browser like Edge, Chrome or Firefox to enjoy a full web experience.
It's easy to make the switch.
Enjoy better browsing and increased security.
Yes, Update Now