Learn about innovaTel's solutions during COVID-19 →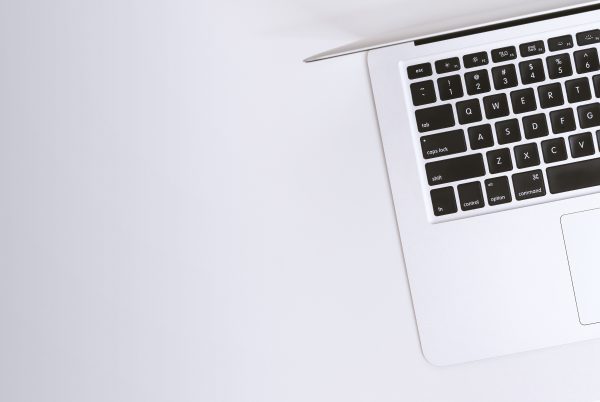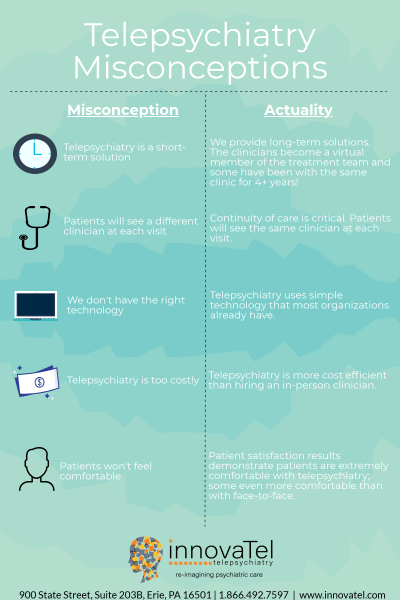 2018 has been a year of substantial forward movement in the field of behavioral health, in both policy and public dialogue. Although with this forward movement there still seems to be some confusion regarding newer methods of behavioral health care such as telepsychiatry.
Skepticism ranges from its efficacy to its ease of implementation; however, we simplified and perfected these processes in the efforts to increase access to care.
Misconception #1 – Telepsychiatry is a Short-Term Solution
Some see telepsychiatry as a short-term solution until an in-person solution becomes available. However, we provide long-term solutions that allow the telepsychiatrist to easily integrate with the treatment team. In fact, some of our practitioners have been with the same clinic for over four years! With innovaTel, your telepsychiatrist will collaborate with your entire staff and attend clinical meetings, just as if they were there on site. The only difference is they come to you virtually!
Misconception #2 – Patients Will See a Different Clinician at Each Visit
We know continuity of care is critical and that's why with our partnership your patients will see the same clinician each time. In order for patients to feel comfortable and for consistent progress to be made, it's important that patients see the same clinician each time. Seeing the same clinician helps patients receive the best care possible from someone who is familiar with their situation and continuing method of treatment.
Misconception #3 – Our Organization Doesn't Have The Right Technology
In general, telepsychiatry uses simple technology that most offices and clinics already have access to. If you have a webcam and an internet connection, you are ready for telepsychiatry.
Our customers receive customized on-site onboarding and on-going 24/7 IT and clinical support to ensure the success of their telepsychiatry sessions. This continuous tech support to our customers ease the obstacles that can arise when employing new technology.
Misconception #4 – Telepsychiatry is Too Costly
Hiring a telepsychiatrist is more cost-efficient in a variety of ways. Telepsychiatrists do not require office space or need to commute to and from a clinic.
Telepsychiatry also allows you to contract for the exact coverage that you need, if you only need 16 hours of clinical time per week, then you only pay for 16 hours per week. Plus, we cover the licensing, DEA, malpractice, benefits and recruitment. This can be a savings for up to $60,000 for your organization.
Misconception #5 – Patient's Won't Feel Comfortable
Based on patient satisfaction results, patients have found their telepsych sessions to be very comfortable. In some cases, patients are actually more comfortable with a virtual visit than they are with an in-person visit. We are committed to making telepsychiatry sessions comfortable and efficient with clinicians on-screen and on-time to see patients for their visit.
If you're interested in learning more about the benefits and services we provide, visit our contact page to speak with a telepsychiatry expert.
---
Internet Explorer is no longer supported.
Please use a different browser like Edge, Chrome or Firefox to enjoy a full web experience.
It's easy to make the switch.
Enjoy better browsing and increased security.
Yes, Update Now