Learn about innovaTel's solutions during COVID-19 →
The Future of Mental Health Care: A Hybrid of In-Person and Telehealth Appointments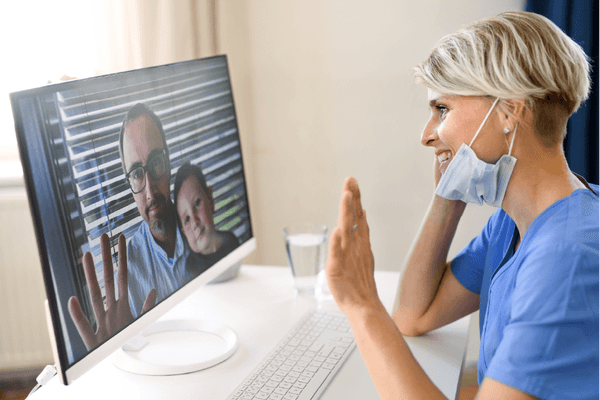 There is a lot of talk in the industry about the future of care delivery and the importance of telehealth. It's clear that telehealth has been instrumental in keeping patients and providers connected during such uncertain times. We've seen rapid adoption across the country of telehealth quickly and what we know, is that patients and providers love using telehealth. At innovaTel, we do not see telehealth as an all or nothing solution. We see telehealth as a complement to in-person care, allowing community mental health centers to create a balance that works for them.
What are the Benefits of a Hybrid Model?
While telehealth has already proven its importance, this year we have seen just how essential it has been in bridging gaps in care. With telehealth, providers can continue to treat their patients without interruptions, ultimately increasing access to care. Providers have also experienced a reduction in no-shows because patients are finding telehealth visits to be more convenient.
What we are also seeing for the first time in behavioral health delivery is patient choice! Patients are now able to choose how they want to receive their services. Walt Hill, the CEO of High Plains Mental Health Center, an innovaTel partner, stated that when patients are given a choice no-show rates go down and outcomes improve because you are treating patients through a medium that is accessible for them.
What are the Challenges of Developing a Hybrid Model?
One of the biggest challenges to virtual care is the fact that not every patient has the same level of access to technology, especially in many of the communities where we are working with patients that may not have the right technology at home or may have bandwidth limitations based on living in a rural area.
Additionally, not every patient is clinically appropriate to connect via telehealth at home. Maybe they are on a medication where it is best practice to capture vitals or maybe the patient is requiring that labs are drawn, or they could use the support of the staff located at a facility.
To decide the mode of care best for each patient based on the resources available to them, innovaTel came up with a simple decision tree that many of our clinics have found very helpful.
The tree begins with two simple questions for patients that are unable to come into the clinic:
Is this patient appropriate for a virtual visit?
Does the patient have a device with a webcam, smartphone, tablet, or computer?
If a patient does not have a device equipped for video chat, a phone visit may be appropriate. Luckily, the regulations have adapted quickly to allow this medium of treatment, however, we do not know how long this will last.
Accommodating Patients Without Necessary Technology
To make the hybrid model work, there are several variables to account for, and accommodating patients who lack the necessary technology for telehealth treatment is one of the most important things to consider. That's why, with our telehealth partnership, we recommend that all organizations have a dedicated telehealth room set up on-site where patients can leverage their technology. By setting up a telehealth room, patients are able to come into your facility and connect with a remote provider using your technology.
Organizations are getting creative to make sure patients are receiving their services and we've seen a tremendous amount of innovation to adapt to these challenging times. For example, some organizations are bringing tablets out to their parking lots so that patients can connect in their parking lot, use their Wi-Fi, and then staff can sanitize the tablet. Sanitizing a tablet is much simpler than sanitizing a room.
While this year has certainly presented a number of challenges, the behavioral health industry has really innovated quickly to ensure that patients still receive their care and we know it has not been easy for our partners.
Learn More About the Hybrid Care Model
If your facility is interested in learning more about adopting a hybrid model, we encourage you to contact us today to schedule a brief call with one of our telepsychiatry experts. During the call, our experts will answer any questions you may have, get an understanding of what your needs are, and show you how telepsychiatry can make a positive impact on your organization.
---
Internet Explorer is no longer supported.
Please use a different browser like Edge, Chrome or Firefox to enjoy a full web experience.
It's easy to make the switch.
Enjoy better browsing and increased security.
Yes, Update Now