Learn about innovaTel's solutions during COVID-19 →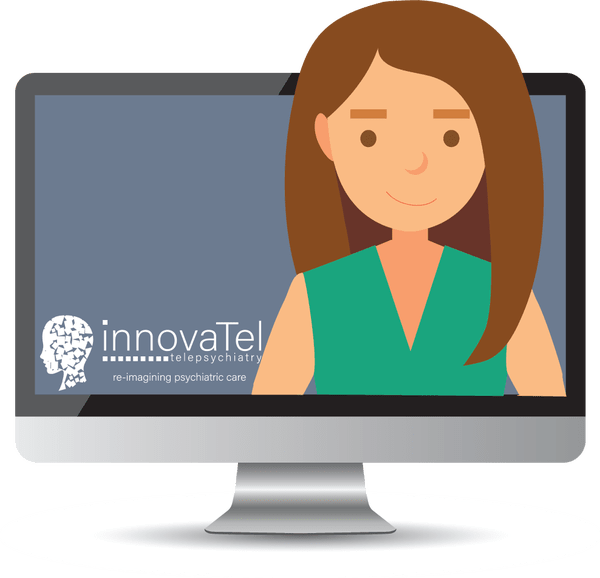 The benefits of telepsychiatry have been widely discussed, and with reputable organizations such as the American Psychiatric Association deeming it a comprehensive and effective solution to increasing access to care, it has become widely accepted in the behavioral health field. As a result, many facilities struggling with recruiting clinicians and meeting patient demand are drawn to it as a long-term solution. So how is this done successfully? We believe it's a combination of research, practice, and preparation.
Telepsychiatry Research
During the initial research phase when your organization is looking into establishing a telepsychiatry program, researching laws and regulations in your state is key. A resource we often recommend is the Center for Connected Health Policy's website. On their website, they have a section where you can look up laws by state. There you will find information regarding Medicaid reimbursement, what services are eligible for coverage, as well as any parity laws that may exist. This important first step gives you an idea of how to proceed when structuring your program.
Another important topic of research is the platform you will be using to conduct telepsychiatry services. Investing in a HIPAA-compliant platform is essential in ensuring safety and privacy. There are several HIPAA-compliant platforms on the market so it is important to research your options to find one that suits your organization best. Our recommendation is to invest in a platform that is available on smartphones, tablets and computers that also provides IT support to both providers and patients.
Get Comfortable with the Equipment
Before seeing patients, we recommend conducting some test visits with colleagues, friends, or family to check for quality and to see if your setup is effective. During your test visits, you'll want to assess the quality of the video, make sure your volume is on, and that the audio is clear. We recommend doing a quick check each day before you get started to prevent technical difficulties from interrupting a patient visit.
Internet Connection
Video and audio quality are dependent on the strength of your internet connection. It is recommended to use a reliable WI-FI connection and not to rely on cellular data. High-definition video streaming requires connection of at least 3 Mbps. To check your connection's bandwidth, tests can be run by visiting www.speedtest.net.
Telepsychiatry Equipment
A quality webcam is an important component of successful telepsychiatry visits. You will find a number of affordable, high-quality webcams available on the market; so finding one that works for your setup is simple. To set up your camera, place the camera at eye-level, so that it is easy to maintain eye contact with the patient. If for some reason you need to use a mobile device, many platforms are mobile-friendly allowing you to utilize the camera on your smartphone or tablet without requiring any additional equipment.
Here are a few other helpful but not required pieces of equipment:
Headset – While not required to facilitate visits, a headset, microphone, or headphones that minimize background noise can be very helpful.
Silent Keyboards – While this may sound minor, the clicking of typing on a keyboard can be distracting during a patient visit. Since innovaTel providers do concurrent documentation, we recommend silent keyboards to minimize distracting noise.
Prepare the Space
Having a prepared space on both ends is important for a comfortable and effective visit. For clinicians, it's important for your space to be well-lit with a desirable background. You don't have to have an expertly decorated office to be deemed therapeutically effective, however, the idea is to be mindful of your environment just as you would if it were a face-to-face session. For dependable lighting, overhead lighting is preferred over lamps rather than relying on natural light to avoid fluctuations.
Partnership with innovaTel
At innovaTel, we understand what's important to you because we've been in your position. With our roots in community mental health care centers, we understand the kind of support you need to be successful. When you partner with us you are never charged expensive recruitment fees and can expect that you will be presented with top-notch clinicians to choose from. Continuity of care is important to us, which is why we guarantee that your patients will see the same clinician every time. To see all that we have to offer our partners, check out our Why innovaTel page.
Partnership with innovaTel
Overcoming staffing and recruitment challenges is possible. If you would like to learn more about the innovaTel partnership model, we encourage you to schedule a call with one of our telepsychiatry experts today.
---
Internet Explorer is no longer supported.
Please use a different browser like Edge, Chrome or Firefox to enjoy a full web experience.
It's easy to make the switch.
Enjoy better browsing and increased security.
Yes, Update Now