Learn about innovaTel's solutions during COVID-19 →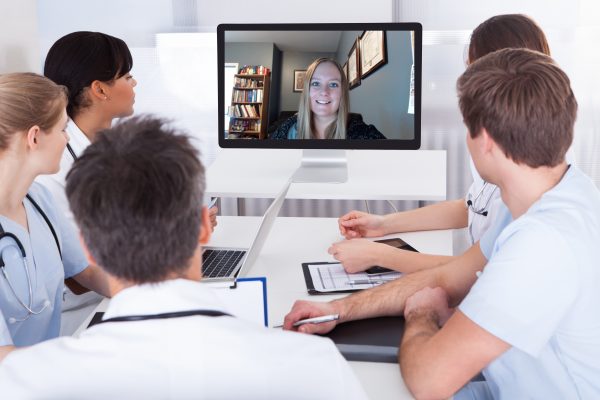 Primary care settings have become the first place many individuals seek out or receive behavioral health care. To meet these needs, especially in under served communities, many primary care providers are integrating behavioral health services into their practice. The use of integrated care is a means of improving the overall quality of care while also increasing access to mental health care by involving behavioral health experts in treatment.
According to the National Institute of Mental Health, over 50% of all mental health care for common behavioral health disorders is received in a primary care setting. There are a variety of integrated care models in use, however, the combination of telepsychiatry with a collaborative integrated care model is by far the most scalable and efficient way for primary care facilities to improve the behavioral health care that their patients will receive.
The Benefits of Integrated Care
In order to provide truly comprehensive care, it is essential for primary care physicians to be informed about their patient's mental health while creating a treatment plan. By making it easier for primary care providers and mental health professionals to collaborate, primary care providers are also able to extend further mental health care treatment to their patients. An integrated health care approach benefits patients, caregivers and the providers themselves.By implementing integrated care, primary care facilities can:
By eliminating integrated care, primary care facilities can:
Eliminate wait times that would typically occur when referring out to a psychiatrist in the community. With telepsychiatry, the psychiatrist would be in the primary care office virtually and readily available.
Provide comprehensive care for overall physician and emotional health.
Access outpatient behavioral health care for their patients.
Create physically and mentally healthier communities.
Adopting Telepsychiatry as a Method for Integrated Care
innovaTel Telepsychiatry utilizes a collaborative consultation model when providing integrated care services to a primary care facility. Collaborating via telepsychiatry is a more efficient way to address the shortage of behavioral health care providers by allowing more patients to be seen each day.
CMS funded the COMPASS Study that focused on a collaborative consultation model and the outcomes were so successful that CMS developed Collaborative Care Codes to encourage the integration of behavioral health into the primary care setting.
If your primary care facility is looking to partner with behavioral health clinicians, our psychiatrists can provide a continuum of services from "curbside" consultations to traditional diagnostic evaluation and medication management.
Please visit our services page or contact us for more information about how your primary care facility can partner with innovaTel for efficient integrated care.
---
Internet Explorer is no longer supported.
Please use a different browser like Edge, Chrome or Firefox to enjoy a full web experience.
It's easy to make the switch.
Enjoy better browsing and increased security.
Yes, Update Now