Learn about innovaTel's solutions during COVID-19 →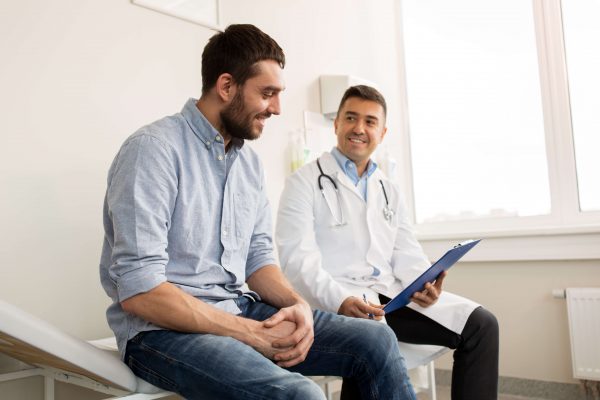 October is National Depression and Mental Health Screening Month. This month we reflect on the importance of early intervention and the positive effect it can have on a patient's long-term well-being. In addition to screening, there are further opportunities to integrate mental health treatment into primary care via collaborative care.
While collaborative care is something many primary care centers would like to adopt, the shortage of mental health care professionals along with other barriers prevent them from achieving this; that's where telepsychiatry comes in.
Why Screening in Primary Care is Necessary
In 2018, almost 20% of adults in the U.S. experienced a mental health condition and only 43% received treatment. Left untreated, mental health conditions can raise their risk of disease, mortality, and increased healthcare costs.
Incorporating behavioral health in primary care allows primary care to assess every patient's mental health and substance use, intervene appropriately, and refer them to treatment and resources. Connecting patients to mental health resources is easier when a practice has an existing partnership with a telepsychiatry provider.
Barriers to Successful Screening & Treatment
Barriers exist with both providers and patients in mental health screening and treatment; many of which can be alleviated through the use of telepsychiatry.
Primary Care Physician Barriers
Insufficient resources and training for handling behavioral health conditions for on-going treatment.
The lack of psychiatrists to refer patients out to in their immediate geographical area.
Patient Barriers
The patient may not follow through with the referral they received from their PCP.
If the patient follows the referral but experiences significant wait times to see a psychiatrist, this can cause a delay in treatment or result in no treatment at all if they decide not to pursue the referral due to the wait.
Partnering with a Telepsychiatry Provider
The integration of telepsychiatry and primary care has the ability to increase a patient's access to mental health care is a step towards a more holistic approach in healthcare. innovaTel Telepsychiatry utilizes a collaborative consultation model when providing integrated care services to a primary care facility. Collaborating with psychiatrists and psychiatric nurse practitioners via telepsychiatry is a more efficient way to refer patients for psychiatric care.
If your primary care practice is looking to partner with behavioral health clinicians, our psychiatrists can provide a variety of services from "curbside" consultations to more in-depth traditional evaluations and medication management to suit your needs.
Please visit our integrated care page or contact us for more information about how innovaTel's continuum of services can cater to your organization's needs.
---
Internet Explorer is no longer supported.
Please use a different browser like Edge, Chrome or Firefox to enjoy a full web experience.
It's easy to make the switch.
Enjoy better browsing and increased security.
Yes, Update Now