Learn about innovaTel's solutions during COVID-19 →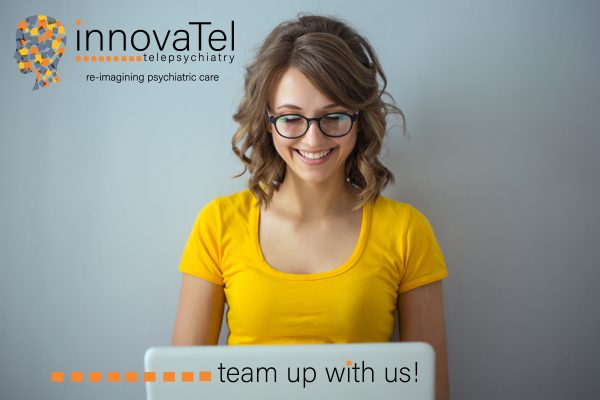 Why Telepsychiatry? Work from Home Opportunities in Behavioral Health
Opportunities to work in the comfort of your own home in the healthcare field are hard to come by; however, with the increase in demand for timely access to psychiatric care across the country, telepsychiatry has quickly become a viable solution to this serious gap in prompt care. In 2014, innovaTel was established by like-minded mental health professionals that saw an opportunity to help bridge the gap in psychiatric care while also offering opportunities to licensed mental health professional seeking more flexibility and balance in their careers.
Currently, we provide psychiatric coverage in 8 states, at over 40 facilities via telepsychiatry and employ over 30 psychiatrists and nurse practitioners, while continuously adding to our staff of psychiatrists, psychiatric nurse practitioners, and licensed clinical social workers.
How does telepsychiatry benefit clinicians?
A regular 9-5 schedule often leaves much to be desired. At innovaTel, we provide the opportunity for clinicians to choose their own schedule, full or part-time, allowing them to design a career that nurtures their development rather than one that works against their personal priorities. The following benefits are just a few ways psychiatrists, psychiatric nurse practitioners and licensed clinical social workers can benefit and flourish by joining the innovaTel team.
Competitive salary and benefits: Including flexible scheduling that allows you to work from home on your preferred schedule and finally achieve work-life balance.
IT Support is available to clinicians 24/7 to ensure smooth patient interactions.
Reimbursement is provided for professional licensing, federal and state-controlled substance registration
Malpractice Coverage is provided.
We encourage clinicians to pursue their interests by doing our very best to match your interests and assign a clinic that is either located in an area of the country you're interested in serving or a treatment facility that is mutually agreed upon.
To be considered for a position with innovaTel, you must hold a board certification or are board eligible and have a demonstrated clinical expertise. A level of comfort with technology is preferred due to the equipment used to communicate with patients along with a level of interpersonal skills that allows for clear communication during telepsychiatry sessions.
Work from home opportunities for Licensed Clinical Social Workers
We are currently hiring licensed clinical social workers to join our growing clinical team. An LCSW at innovaTel would provide teletherapy using our secure connection to community mental health centers while working from home. We are looking for candidates who hold an MSW from an accredited program and currently have LCSW status.
If you're interested in learning more about our career opportunities, we encourage you to check out our career page. There, you will find more information regarding the positions we have available, clinician benefits, as well as testimonials from our team of professionals giving insight about how telepsychiatry has enhanced their personal and professional lives.
---
Internet Explorer is no longer supported.
Please use a different browser like Edge, Chrome or Firefox to enjoy a full web experience.
It's easy to make the switch.
Enjoy better browsing and increased security.
Yes, Update Now